<!onMouseover Link CSS Script-© Dynamic Drive (www.dynamicdrive.com). For full source code, installation instructions, 100's more DHTML scripts, and Terms Of Use, visit dynamicdrive.com-->
| | |
| --- | --- |
| | MIDI FILE NOW PLAYING: "Low Down", Boz Scaggs |
NOTE: This page contains a java applet which may
take some browsers up to 30 seconds to fully load.
The applet is contained in the solid gray box below
and may already be loaded by the time you read this.
However, if not, please be patient while the image loads.
It may be helpful to click on your "Refresh" button.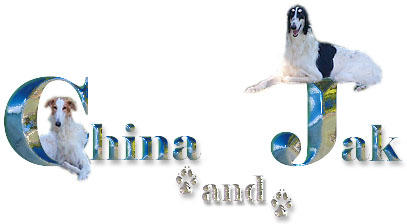 Above photos taken May 30, 1999 at the age of 16 months.
---
Jak and China are litter-brothers
(Date of Birth: 1/22/98)
(Am. Can. Ch. Auroral's Raven x
Ch. Reggae's Chenin Blanc)

Auroral Borzoi & Papillons,
Jon and Jennifer Steele
---
Photo taken at the fun match in Syracuse, NY, Friday,
March 31, 2000. Jak and Jan participated in "for exhibition only" competition.



Memorial Day, May 30, 2000
Tioga County Kennel Club AKC All Breed Match

Click on the thumbnails below to view: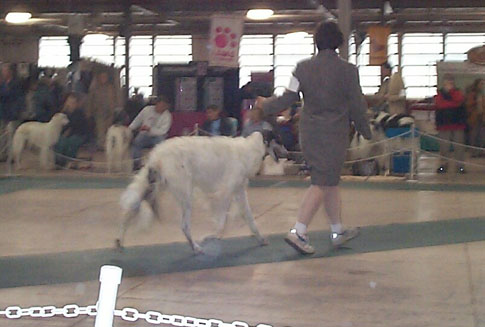 Jak and I in the ring at Syracuse, NY, Nov 2000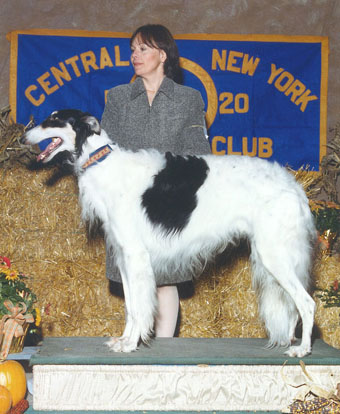 Jak and Jan - Syracuse, NY Nov. 2000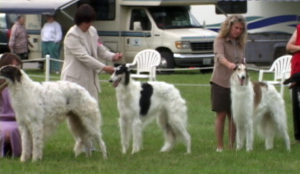 Jak and Jan at Nationals 2001, Ellenville, NY
That was Michelle Rowton behind us - and Renee McCartin in front of us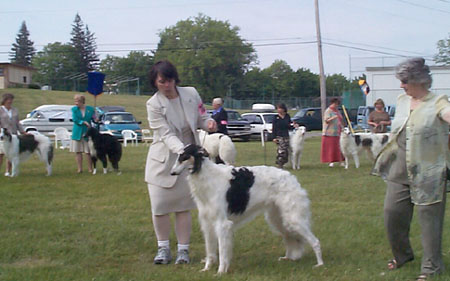 Jak and Jan at Nationals 2001 being "inspected" by very nice English judge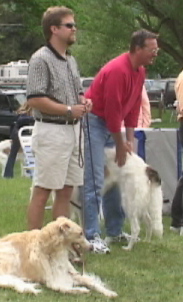 At the Nationals again:
Kirk Gillaspey with Quentin,
and my Rick in red with "their" Liberty (going between his legs)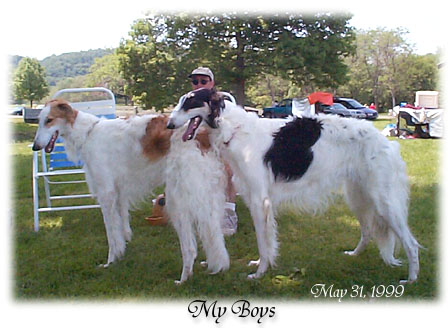 China, Jak and Rick at a match, May 31, 1999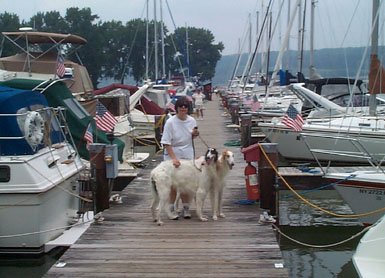 At our old Marina in Ithaca, NY
Yes, everyone at the Marina now knows what "Borzoi" are!

Many of these Park photos were taken in "Our Park",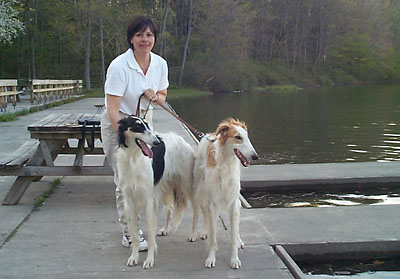 At our Park again
---
Reggae's Baccarat (China), CGC
Reggae's Blackjak (Jak), CGC

CGC (Canine Good Citizen)
On April 30, 2000
Jak and China tested for their Canine Good Citizens Certificate
and passed with flying colors!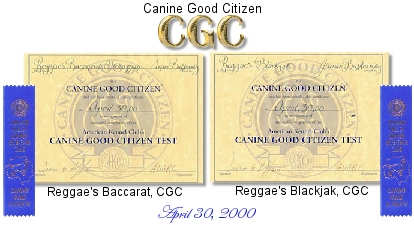 To learn more about theCanine Good Citizen test, go to American Kennel Club web site: www.americankennelclub.com

The CGC is a certification program that is designed to reward dogs who have good manners at home and in the community. The Canine Good Citizen Program is a two-part program that stresses responsible pet ownership for owners and basic good manners for dogs. All dogs who pass the CGC test receive a Certificate from the American Kennel Club and as of January 1, 1999, they are automatically recorded in the AKC's Canine Good Citizen Archive.

The purpose of the CGC Program is to ensure that our favorite companion, the dog, can be a respected member of the community.

(excerpt from American Kennel Club web site)

To receive the CGC award, dogs take the
10 item Canine Good Citizen Test.
Items on the test include:

Test 1. Accepting a Friendly Stranger
Test 2. Sitting Politely for Petting and Grooming
Test 3. Appearance and Grooming
Test 4. Out for a Walk (walk on a loose leash)
Test 5. Walking Through a Crowd
Test 6. Sit and Down on Command/Staying in Place
Test 7. Coming When Called
Test 8. Reaction to Another Dog
Test 9. Reactions to Distractions
Test 10. Supervised Separation (3 min.)
Jak and I, getting ready for the stay command wherein the lead is dropped, I walk 20 feet ahead and command
Jak to stay.
China and I, simulating a casual meeting with a stranger and his dog, for a friendly greeting/meeting.
---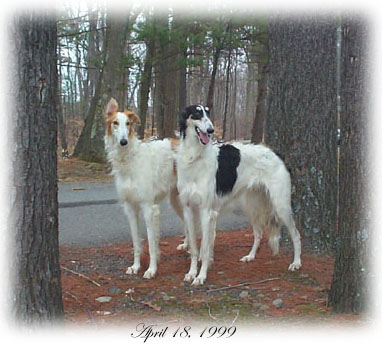 Psssst . . . that is genuine, crystal clear
and very cold water running in the Falls to your left.

If you don't believe us, take your mouse
pointer and run it across the Falls.

(see, we told you!!!)
---
And now, our story . . .



Jak and China are litter-brothers from the breeding of
Am/Can Ch. Auroral's Raven x Ch. Reggae's Chenin
Blanc. (DOB: 1/22/98)

That litter produced four puppies:
Reggae's Red Roulette v. Auroral (f), Reggae's Keno (f),
Reggae's Blackjack (m) and Reggae's Baccarat (m)

We adopted China (Reggae's Baccarat) in July of
1998. We were so enchanted with China (his whimsical
personality, and exceptional loving and gentle temperament)
that I yearned for another wonderful Borzoi puppy.
But, could we be so lucky as to find another sweet and
wonderful puppy?

. . . . in November 1998 (almost 5 months after we
adopted China), we adopted Jak (Reggae's Blackjack)
and have certainly been blessed twice with two
incredible boys who we love and cherish very much!
Thank you Reggae Hounds and Auroral Borzoi & Papillons,
for your joint efforts in bringing this litter of pups
into the world, as our lives have truly been enriched by them.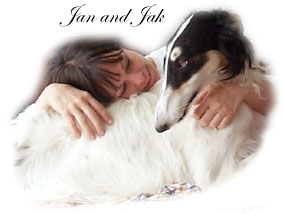 ---
China (Reggae's Baccarat), CGC
Canine Good Citizen, Awarded April 30, 2000

a/k/a Cha-Cha and the Red Rider

China is a very sweet, loving and whimsical puppy. He is the more spirited and gamey of the two brothers and can most often and likely be found getting into "things", with Jak being the on-looker. When he and Jak run in their yard together, China would rather be the chaser than the chasee. China loves people, especially children and/or toddlers.

Jak (Reggae's Blackjak)CGC
Canine Good Citizen, Awarded April 30, 2000

a/k/a Jak-a-Bee, Bee-Ah, Tickle-Bee, Tickle-Me-Elmo Dog.

Jak is a very sweet, friendly, mellow and very much the laid-back ("marshmallow") puppy. Jak would rather stand by your side in the yard, than run with his brother China. Jak loves to meet new people.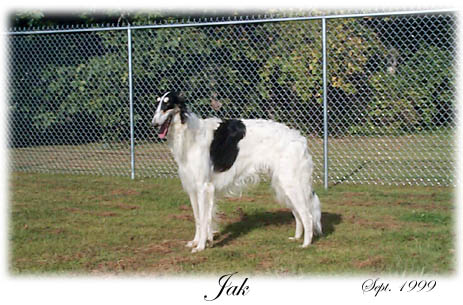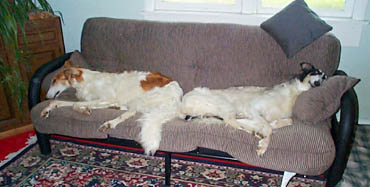 Taking an afternoon siesta on the "their" new futon in the computer room.
Brotherly love still reigns (photo taken August 28, 1999)